A district so cool they made it a verb: #ponzaning
Chamberí.
Madrid's most authentic neighbourhood
There is no doubt about it, Chamberí is a truly quintessential, traditional Madrid neighbourhood. It was home to the 19th and 20th century aristocracy, which is gloriously clear from its tall, elegant, eclectic range of buildings, graced in many cases with uniquely charming doorways. It is very central but not crowded, and offers plenty of parks and green spaces, including the beautifully landscaped Plaza de Olavide, Parque Santander and Parque del Oeste, one of Madrid's green spaces positioned on the border with the Ciudad Universitaria neighbourhood. The cultural offering in the area is also second-to-none; it is home to the Sala Berlanga, a multifunctional space which screens movies and holds exhibitions, concerts and theatre and dance performances, as well as the Canal, Luchana and Abadía theatres, which are among Madrid's finest. Not to mention all the cinema theatres: Cines Verdi, Conde Duque Verdi Alberto Aguilera, Conde Duque Santa Engracia, and Cine Proyecciones, which is housed in an art deco building dating back to 1932, all located in Calle Fuencarral, which was fittingly once known as "cinema street". Chamberí has it all: a family feel in the areas nearest the Paseo de la Castellana, and a younger, more studenty vibe around the Calle Princesa, which is close to various university buildings. This diversity is exactly what makes it the perfect place to stay, offering everything you need within arm's reach: a whole host of services, a spectacular location and an endless range of restaurants and leisure and cultural activities.
Connect with the neighbourhood
Esta um arumque cusa idusam ene mincien iminctore aut etur atia nobit, int laut expernat ut derum sequo omnit la cum rem. Ecat. Loribus anducid ullatemporem aut eliti nimusam quia sanimaio idit, et quunt quam facepreped modi occab is id eos ulparum fuga. Nem que vel in eruptat.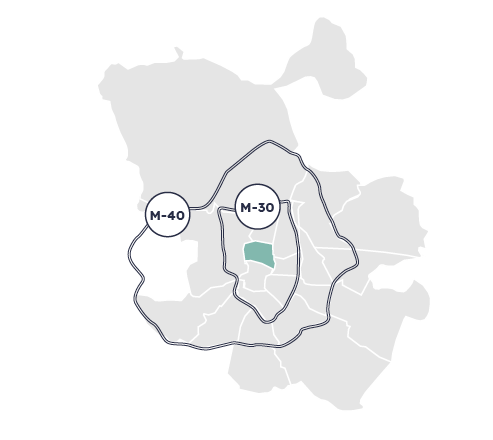 ¿Fancy living
in Chamberí?
We know that you may have many questions, which is why we are always available if you need to talk to someone. Write to us and we'll call you within 24 hours.