Beauty, splendour and luxury for everyone
Salamanca.
Madrid's most exclusive neighbourhood
Salamanca was specifically designed to be one of Madrid's most exclusive neighbourhoods, with elegant buildings and broad streets affording the perfect blend of light and tranquillity. It owes its name to its primary developer, José María de Salamanca y Mayol, who decided back in the mid-19th century to create a lavish, elegant neighbourhood for the aristocracy. The district is structured in the 19th-century style – much like Barcelona's Eixample district – with square blocks distributed in the form of a chess board, inviting visitors to meander along its streets and take in the beautiful façades and intricate details of its balconies, which are among some of the finest in Madrid. The legacy of Salamanca – Mayol's vision endures even today, and this glamorous area is a hotspot for haute cuisine, boutiques and the very best in design. But don't be fooled into thinking that Salamanca's Golden Mile of high-end brands and stunning examples of imposing architecture –like the spectacular Metrópolis building and the landmark Plaza de Cibeles –is all this neighbourhood has to offer; there are shops, activities and restaurant options here to suit every budget.
Connect with the neighbourhood
Esta um arumque cusa idusam ene mincien iminctore aut etur atia nobit, int laut expernat ut derum sequo omnit la cum rem. Ecat. Loribus anducid ullatemporem aut eliti nimusam quia sanimaio idit, et quunt quam facepreped modi occab is id eos ulparum fuga. Nem que vel in eruptat.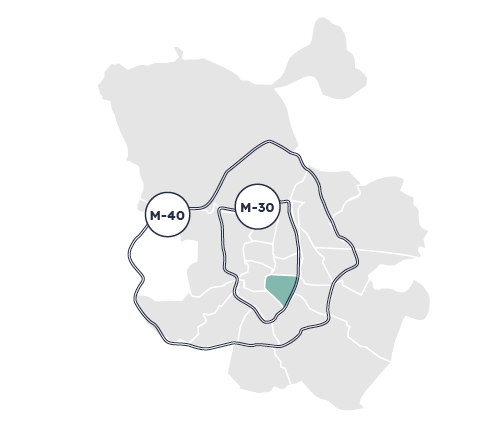 ¿Fancy living
in Barrio Salamanca?
We know that you may have many questions, which is why we are always available if you need to talk to someone. Write to us and we'll call you within 24 hours.