Conveniencein an ever-expanding neighbourhood
Cuatro Caminos.
A vibrant, up-and-coming neighbourhood
Cuatro Caminos, in the district of Tetuán, gets itsintriguing name –which translates loosely as Four Paths –from the fact that the first houses built there in the mid 19th century were located at the meeting point between four major roads: Calle Bravo Murillo (then known as the Camino de Francia), Avenida Reina Victoria (previously Camino de Aceiteros), Paseo de Santa Engracia and Calle de Raimundo Fernández Villaverde (formerly Paseo de la Ronda).
Cuatro Caminos is now a thriving neighbourhood of huge appeal to young people seeking a friendly, green place to live with all the services and amenities on offer here. The ever-growing neighbourhood is also just a stone's throw from Madrid's CBD and its iconic Four Towers, making it the ideal optionfor both families and people visiting on business.
Connect with the neighbourhood
Esta um arumque cusa idusam ene mincien iminctore aut etur atia nobit, int laut expernat ut derum sequo omnit la cum rem. Ecat. Loribus anducid ullatemporem aut eliti nimusam quia sanimaio idit, et quunt quam facepreped modi occab is id eos ulparum fuga. Nem que vel in eruptat.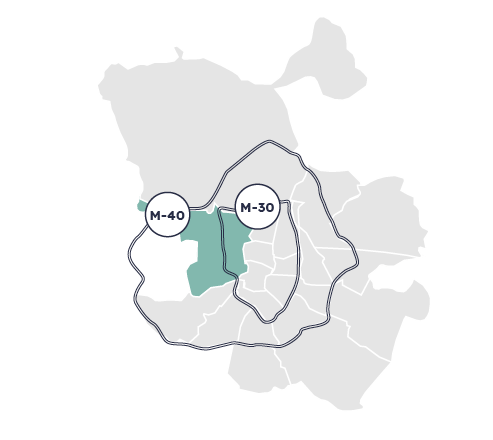 ¿Fancy living
in Cuatro Caminos?
We know that you may have many questions, which is why we are always available if you need to talk to someone. Write to us and we'll call you within 24 hours.